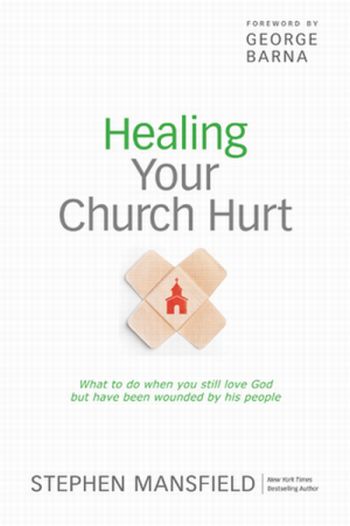 Many people have been wounded by the church and Christians.  Those who have been hurt live their lives full of anger and frustration against God and the people who have claimed to follow Him.  On some level, I think that many people have struggled with church hurt.  In the midst of a culture of people struggling with forgiving those who have hurt them through religion, Stephen Mansfield has written a very helpful book titled Healing Your Church Hurt: What To Do When You Still Love God But Have Been Wounded by His People.
As a person who has struggled with church hurt in my own life, I found Mansfield's book to be very encouraging and challenging.  He writes not as a mere theologian or spectator to church hurts.  Mansfield has served as a former pastor who has been wounded deeply by those in the church.  This book is written from the heart of a fellow struggler to people who he is calling to walk a path of forgiveness and restoration in light of their hurts.
Healing Your Church Hurt is a very practical book that seeks to apply the biblical truth of forgiveness by calling readers to examine themselves and to see God's sovereign plan in the midst of their pain.  Mansfield builds his theology strongly around the doctrines of total depravity and God's grace despite ours and others failures.  The reader is called to be the one to take the high road of forgiveness because in forgiving others, the reader is set free from their own bondage that has come from their hurts.
Mansfield's book is one that churches should provide as a resource for their members.  By being honest about our own expectations and extending the grace to others that Jesus has extended to us on the cross, we can overcome our church hurt.  Healing Your Church Hurt is an excellent resource to guide you in beginning the process of healing.
Unsere Empfehlungen: