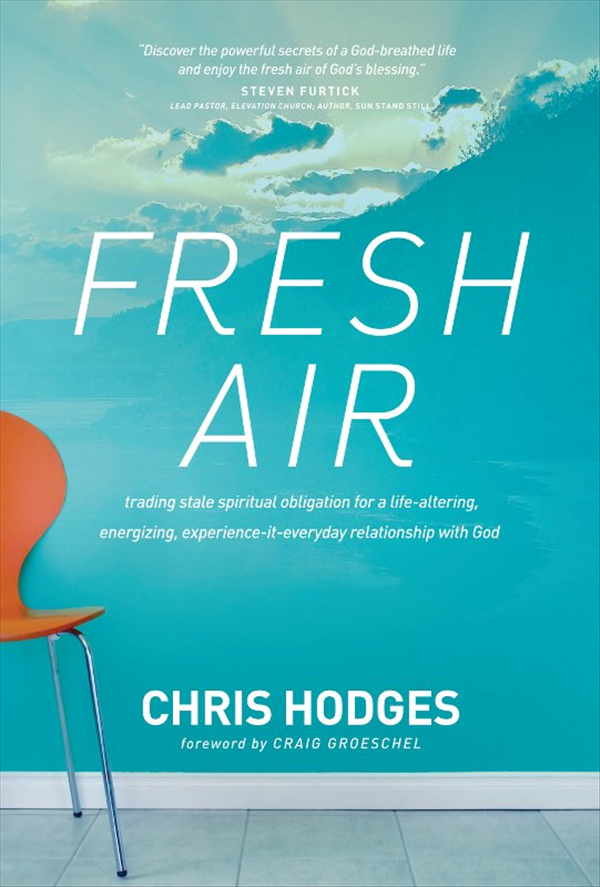 In Fresh Air, Chris Hodges challenges readers to live a vibrant Christian life by learning to live through the power of the Holy Spirit.  In his first book, Hodges tells the story of his own bouts with a spiritual depression before finding the "Fresh Air" that is offered through a vibrant relationship with the Holy Spirit.
The first section of the book sets up the theology of relationship over religion.  Hodges argued that Jesus repelled the religious yet welcomed the broken.  The goal of Christianity is not following religious rules or checking off religious boxes, but it is having a relationship with Jesus Christ that changes everything.  Hodges does an effective job of presenting the compelling nature of this life-changing truth.
The second section of Fresh Air seeks to apply maintaining a relationship with Jesus Christ through the application of personal spiritual disciplines.  Hodges practically and clearly explains the disciplines of Bible study, prayer, worship, biblical community, giving, and Sabbath.  In addition to what many would consider the traditional spiritual disciplines, he adds keeping an eternal perspective and having a good attitude.  This section of the book gives readers practical steps to help adjust their lives to living by breathing fresh air by maintaining a relationship with Jesus.
The final section of the book explains the Person and role of the Holy Spirit in the Christian life.  Hodges seeks to present the Holy Spirit not as some weird religious phenomenon but as a friend who helps you live the Christian life.  This is a helpful theology that makes Christian living not about the Christian's performance, but the Holy Spirit's work in and through the Christian.
Fresh Air is a practical and theologically sound read.  I am encouraged by Hodges' passion for a vibrant Christian life through the work of the Holy Spirit.  This is an accessible read that exposes biblical truth in a way that the average reader can grasp and apply to their lives.
Unsere Empfehlungen: