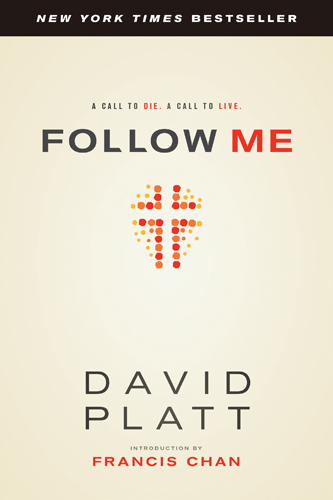 In Follow Me: A Call to Die. A Call to Live, David Platt challenges Christians to truly embrace the cost and lifestyle changes that the gospel demands.  Like Platt's previous books, Follow Me is a call for Christians to return to the truth of the texts rather than merely going along with American Christianity.
Follow Me begins with a chapter about Platt's concern that there are many people in our churches that claim to be believers who are merely embracing a cultural Christianity rather than truly following Jesus.   Platt then goes on to look at Jesus' initial call to His disciples to follow Him and become fishers of men.  This call is connected to both a cost of following Jesus and the call to be involved in God's work in the world through the Great Commission.
Platt then addresses the cultural concerns of superficial religion, making Jesus your personal Lord and Savior, being a Christian without being involved in a church, and finding God's will for your life.  These are all very helpful and challenging chapters.  Platt consistently points his readers back to the text to make sure our views of Christianity are defined by God's Word rather than our cultural cliches.
Follow Me ends with a call for every Christian to be involved in disciplemaking.  This is Platt's term for the process of carrying out the great commission by sharing the gospel and helping people grow in their faith through a small group or one on one discipleship relationship.  He paints a picture of the goal of disciplemaking and the biblical call for every believer to make discipled before laying out a practical approach through a personal disciplemaking plan.  The final pages of Follow Me are truly a guide to develop your own personal disciplemaking plan.
Platt has written another engaging, biblical, and challenging book in Follow Me.  This is a book that should be read with an open heart because God will challenge you through the Holy Spirit's work in David Platt.  This is also a book that drives the reader to action – living a faith that truly follows King Jesus!
Unsere Empfehlungen: