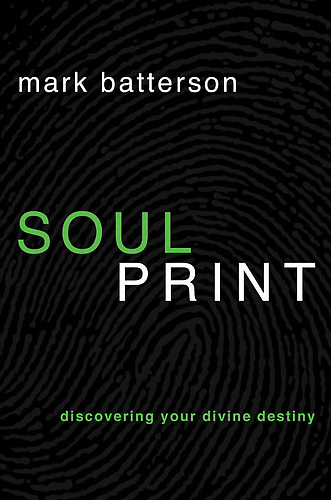 Our world is in an identity crisis.  We are constantly looking to celebrities, children, relationships, looks, and many other things to base our identity on.  In SoulPrint: Discovering Your Divine Destiny, Mark Batterson effectively presents the biblical antidote to this identity crisis.  As believers, our true identities are grounded in our relationship with Jesus Christ.
Through SoulPrint, Batterson encourages his readers to personally evaluate the past, present, and future decisions that have been essential in identity construction.  He discusses the process of sanctification, in which a believer becomes the person who God created them to be.  This exploration is done primarily through a study of the life and decisions of David.  Through the chapters, Batterson makes David come alive to the readers.  Through the life journey of David, readers are taught the importance of having a holy confidence in God, making spiritual markers of God's faithfulness, reflecting in times of preparation and discouragement, being authentic, and avoiding times of temptation.  Batterson ends the book by painting a picture of God giving believers a completely new identity in heaven.
This is a very encouraging and challenging read.  Batterson encourages readers to become real about the things that have formed their identity and a passionate call to surrender their identity completely to Christ.  Batterson's writing style and constant examples make SoulPrint a very compelling read.